My partner and I recently embarked upon our first campervan trip. Our first campervan trip with just each other, I mean. Between us, we've been on many campervan trips with our respective families. Until this trip, however, my partner had never been in the driver's seat, and I had always been mysteriously absent whenever it was time to empty the waste water. It was a learning experience for both of us.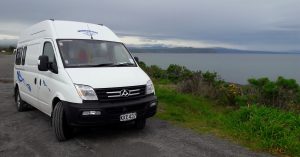 The campervan we travelled in was a brand new two-berth, manufactured in New Zealand by Wendekreisen. This model, the Koru Star 2ST Premium, is available for hire, but can also be purchased for less than $100,000. Overall, we were very impressed with it. We only encountered one real problem, and it was the same problem my partner always has: he's nearly two metres tall! He was unable, therefore, to stand comfortably in the 1.85m high interior.
My partner's height issues aside, the campervan interior was cleverly laid out to take advantage of what space there was. In the 6m long, 2m wide vehicle, there were two kitchen benches, one containing a 2-flame gas stove and sink, a fridge, a pantry, a toilet and shower cubicle, a gas heater, a television, a table, a wide bed and lots of cupboards. Yes, moving around was like trying to solve a sliding tile puzzle, but the small space was worth it for the ease with which the campervan drove. (And parked.) I am glad, though, that we didn't have a third person with us, as the campervan was designed to take "up to three".
When we picked the campervan up from the Wendekreisen depot near Auckland Airport, the lady who showed us the ropes, Sila, was lovely. Her cheerful warmth was infectious! We left feeling confident that we could handle things, although the first time we had to empty and refill the water turned into a bit of a nightmare. It was cold, dark and raining. (It hadn't been when we'd started!) The fresh water hose that had come with the campervan was too short, no matter how we parked, and the dump station was too high for the grey water to empty into. I think this was a fault with that particular dump station, though; not the campervan, as we were fine at other dump stations.
The toilet, much to my relief, was much easier to deal with. In fact, the whole toilet setup in this campervan, in a proper cubicle, is excellent. If you're going to be freedom camping, I now firmly believe in paying extra for a proper toilet and shower. It makes a real difference. I hate the idea of those portable toilets stashed under seats, with your only privacy a curtain, if that. In my opinion, this campervan is worth it for the toilet alone.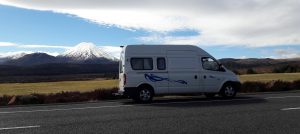 The shower's pretty good too. The hot water is produced by exchanging heat from the engine cooling system. The shower temperature and pressure is surprisingly comfortable. I actually had a pleasurable time showering! I wouldn't recommend washing your hair in this shower, though, as any shed hair can't really drain away. Besides, it's best to keep your in-campervan showers short. (And have them soon after you've arrived somewhere, so the water is still hot from the engine.)
As we'd rented the campervan in winter, we were worried we'd be cold, but we needn't have been. The gas heater – we never needed to use the electric one – was great. We were wonderfully cosy in our little cave. We needn't have been worried about running out of power, either. The campervan had two 1kWh house batteries, which charged well enough whilst we were driving. We barely had to stay at proper campsites at all, which saved us a lot of money. We had the stereo on heaps – the inbuilt speakers won me over. The television was hardwired into them too. If only we'd brought the right cables, we could have streamed the final episode of Game of Thrones Season 7 on it!

As for the driving, my partner was surprised at how easy it was. Everything was very smooth and, compared to every other campervan we've ever been in, quiet. The 2.5L diesel engine (EU5 emission standard compliant) had six gears, which he loved. The rear camera was useful, what with the rear mirror being mostly ornamental, and the passenger airbag could be disabled with a switch. Fuel consumption was good for the vehicle's size, approximately 9L per 100km. We certainly didn't spend as much on fuel as I had budgeted for. In fact, at $75 a day for the campervan at the time of year we hired it, the whole trip turned out to be gratifyingly cheap.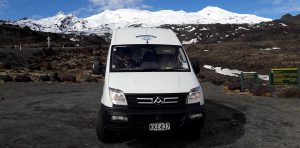 Apparently, you can buy the campervan fitted with a towbar.  The rental version doesn't come with a towbar, but it does come with a Parrot onboard computer system, which basically turns your campervan into a smart phone. It can access the Internet through your mobile phone, or whatever Wi-Fi is around, download apps, play your music, navigate, follow voice commands and display the video feed from the reversing camera. We didn't really use it, except as a radio. We had our phones.
The campervan is made from the LDV V80 van, with insulated sidewalls and ceiling. It comes with everything you need, even a picnic table and chairs. In fact, we generally left our bed set up and had our meals on the picnic table, because we're lazy. There's nice U-shaped seating at back, a point of difference from other campervans. It also has rear doors. One night, we parked with them facing onto the sea and opened them in the morning to catch the sunrise. Well, that was the idea, anyway. We couldn't actually see much of the sunrise because it was cloudy. I told you this campervan trip took place in winter!
So, yes, we were very happy with Wendekreisen's Koru Star 2ST Premium campervan. Thoughtful touches added to the overall convenience, such as USB charging ports and LED lighting with glow-in-the-dark switches. It is, of course, fully self-contained. If you'd like a more comprehensive list of features, click here. To find out more, visit campervansales.co.nz. Wendekreisen is a family-owned-and-operated New Zealand business with a commitment to environmental responsibility. If you ever want to hire or buy a campervan in New Zealand, check them out. I certainly wouldn't go with anyone else. 😉