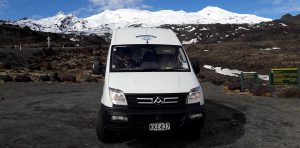 Campable is a new app that's like Airbnb for campervans. People can put areas of their private property up, allowing campervanners to book and pay for spending the night there. Sounds cool, right? Well I recently tried it out. Here's my review.
My partner and I were spending nine days exploring the central North Island of New Zealand in this two-berth campervan rental from Wendekreisen. I used Campable to book places to stay for four of those nights. The app was free to download and it was very easy to create an account, although I do wish I had been able to change my email address within the account. Maybe they will add this feature in the future.
Browsing and booking the campervan sites was also very easy, or at least it would have been if the app hadn't continually crashed. To be honest, I would have given up at this point if I hadn't been determined to review it. Besides, all new apps have teething problems, and this will probably be fixed in the future.
I was impressed with the clear and friendly terms and conditions, but not so impressed with being charged twice for two separate sites. To be fair to Campable, they paid me back without any fuss when I emailed them.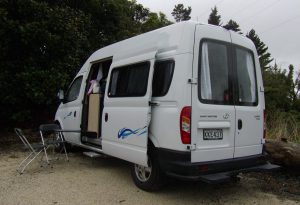 The main appeal of Campable, according to their marketing, is to meet locals as you travel, for a more immersive experience. No doubt this will appeal to many, but for introverts like me, meeting new people is a terrifying chore that I'd rather not have to deal with when on holiday. I was relieved, therefore, when the people on the first property we stayed at saw no need to interact with us. We were confronted with a scarily aggressive dog when we arrived, though!
All in all, it was a nice spot to camp, quiet, with views over a farm. We awoke to pleasant animal noises and were close to lots of attractions. If it weren't for the sandflies, it would have been perfect. This particular spot cost $20 a night to stay at, comparable to a mid-range campground. At a campground, though, we would have had access to a toilet, shower, kitchen, dump station and power. Without these things, we may as well have been freedom camping.
So, the question of Campable is this: is there any point in paying for what you can just get for free? In summer, maybe. Free camping spots fill up very quickly in summer, and Campable gives you the opportunity to camp in peace, away from other campervans, in spots you wouldn't otherwise have access to. It gives you a guaranteed spot, so you're not worrying about finding somewhere to spend the night. Of course, in winter you don't have to worry about this anyway.
Some of Campable's listings do allow you to use their toilets, but powered sites are difficult to find outside of established campgrounds. You might find some gems with the app, with generous hosts eager to show you a good time, but I wouldn't rely on it for your whole holiday.
Is Campable the best camping app? No, but it's free, and I recommend you download it for your campervan trip. You probably won't need to use it in winter, but in summer it's great for expanding your camping options. Use it in conjunction with the official NZ camping app, which is also free.
You can download the Campable app by searching "campable" or you can just visit campable.com.
By Abigail Simpson, author of Poms Away: A British Immigrant's View of New Zealand