Company: Wendekreisen
Model: Koru Star 2ST Freedom

My fiancé and I recently spent a month travelling around New Zealand in Wendekreisen's new 'Freedom' model two-berth campervan. I'll say right now that it was the best campervan I've ever travelled in.
The main selling point of the 'Freedom' campervan is that it truly offers freedom whilst travelling. It never needs to be plugged into a powered campsite in order to charge its batteries. This means that you never have to pay (or bother booking) to stay at a commercial campground. You can freedom camp for your entire trip!
How does it achieve this? Of course, the batteries charge as the van is being driven, but they are also connected to large solar panels on the roof and can store 4.3 kilowatt hours of electricity. My fiancé and I actually tested the batteries to see if we could make them run out. (This was safe to do as the battery that makes the van start is separate.) We ran the television, the fridge, the hard-wired stereo, a laptop (with the aid of a power inverter); we left the lights on; we charged all our devices.
The power never came close to running out.
It was liberating not having to worry about conserving power. We didn't have to worry about conserving gas either, as the heater was diesel-powered (like the van's engine) and only used about 300mL per hour of heating. It was connected to the van's fuel tank, so when we filled up at service stations, we were also taking care of the heater. The van's hot water supply was heated by the engine heat exchange, which further saved fuel and power. And, yes, this got the water plenty hot enough.
The shower was amazing. When the water tank was full and we'd recently stopped driving, the heat and pressure were better than in our shower at home! The van's water tanks were larger than in other two-berths we've been in, so we could afford to have slightly longer showers too.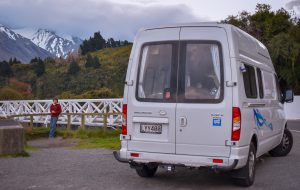 As far as driving the campervan is concerned, it was a manual, but a very easy one. My fiancé actually enjoyed driving it. There was a reversing camera, which was good, and a whole multimedia system that we were never able to work out. The radio came on at full volume every time we started the engine!
An awesome difference from other campervans we've had was the walkthrough cabin. You could get from the cabin to the living quarters without having to exit the van, which was great when it was raining.
Let's see… what else? Stove good. Fridge good. Toilet good. Lots of space for groceries. Don't bring any big suitcases, as they won't fit. Storage is divided into lots of school backpack-sized compartments. My fiancé himself had trouble fitting in the van, but that's not unusual, as he's nearly 2 metres tall. I was perfectly fine.
Oh, here's a nice feature: a warm lighting option. By that I mean soft, yellow, recessed lights along the van's interior, as well as the usual bright, white LEDs. This means you can create a cosy atmosphere inside the van at night.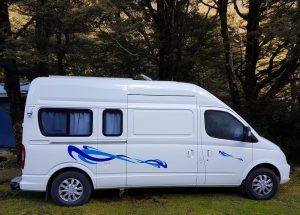 So, yes, I was very impressed with the Wendekreisen Koru Star 2ST Freedom model campervan. It'll be hard to ever go back to a lesser model! You can hire this van – and larger 'Freedom' models – at www.wendekreisen.co.nz. It's also available to buy, customised to your taste, and made right here in New Zealand.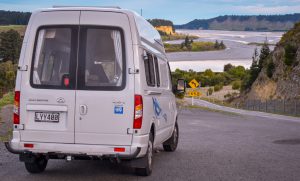 You can read more (and write your own) New Zealand campervan reviews at www.newzealandcampervanreviews.co.nz!