Museums: everyone's favourite wet weather tourist attraction. Unless you're a history nerd like me – I'm drawn to museums whatever the weather! Over the years, I've spent a lot of time travelling around New Zealand and, as such, I've visited a lot of museums. Here's a list of what, in my opinion, are the ten best museums in New Zealand. (I've left out historical villages, such as the excellent Howick Historical Village, and heritage buildings, such as the fascinating Pompallier House in Russell – otherwise we'd be here all day.)
10) Auckland War Memorial Museum
This was the first museum I ever visited in New Zealand, at the tender age of ten. I remember being impressed by all the different Māori weapons on display, and by the atmosphere inside the wharenui. The natural history section is wonderful, as is the volcanoes exhibition. The museum building itself is a beautiful example of neoclassical architecture, set within the tranquil Auckland Domain. (Explore the Wintergardens whilst you're there!) It costs $25 to enter the museum if you're an international visitor, but if you live in New Zealand it's free.
9) Whitestone City
This interactive museum experience can be found in the heart of Oamaru's Victorian Precinct. You can – indeed, are encouraged to – touch everything, from the items in a replica nineteenth century dispensary to the slates in an old schoolroom. There are toys, artefacts, antique dresses… even a ridable penny-farthing carousel, (which rather put me in mind of Neil Gaiman's American Gods.) The best thing is you can explore Whitestone City whilst dressed up in Victorian costume, posing for photos along the way. I recommend doing the guided tour, as you'll get a lot more out of it.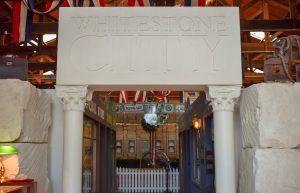 8) Canterbury Museum
This eclectic museum is housed in a gorgeous building on the edge of the Christchurch Botanic Gardens. It's free to enter – although donations are encouraged – and takes a long time to explore. My favourite exhibitions are the nineteenth century street – modelled after actual shops Christchurch had back then – and the early settlers section, where, as well as artefacts, there's a recreated hut showing how the first European New Zealanders would have lived. Perhaps the museum's quirkiest exhibition is the paua shell house, a testament to dedicated collectors everywhere. I wish I'd had an entire day to appreciate everything.
7) MOTAT
The Museum of Transport and Technology is in Auckland, and it's less boring than it sounds. As well as a collection of old trains, planes and automobiles, it has a restored Victorian pumphouse and a model village. (It's become quite popular with the steampunk crowd in recent years.) For kid's, MOTAT's a great place to learn about how things work. It's tactile and exciting, and there's an old-fashioned tram to ride on. If you're interested in the history of New Zealand invention, this is the museum for you.
6) Te Papa
This is New Zealand's national museum, perched proudly on Wellington's waterfront, and it doesn't disappoint. The history of New Zealand's flora and fauna, and of the arrival of the Māori, is excellently presented. I found the exhibition displaying the history of New Zealand immigration particularly affecting, but then I would, being a New Zealand immigrant myself. There's a cool outdoor exhibition in which paths wind through a collection of native trees, over bridges, and through a cave complete with (fake) glowworms and moa bones. Te Papa also has the world's only colossal squid specimen on display – you can see why people might have thought it was a monster!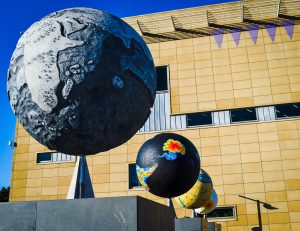 5) Waipu Museum
Waipu is a small town up north. It has a few interesting second-hand shops, a stunning beach called Waipu Cove, and a surprisingly brilliant museum. The story of the brave Scottish immigrants who founded Waipu is fascinating, and Waipu Museum tells it with relish. It's a relatively small museum, but it's very well designed. I'm so glad we went there.
4) The Edwin Fox Maritime Museum
The Edwin Fox is the world's last surviving Australian convict ship, the last surviving wooden New Zealand immigrant ship, the oldest surviving East Indiaman, the second-oldest surviving merchant sailing ship, and the ninth-oldest ship in existence. You wouldn't expect to find it, alongside a museum dedicated to it, in Picton, but there you go. The museum part consists of a single room that's not at all impressive, though it's definitely worth a look. The impressive thing is you can go inside the ship itself, which I, for one, found to be a magical experience. The Edwin Fox is a truly special piece of not only New Zealand, but world history.
3) Rotorua Museum
This, I think, has to be the most beautiful museum building in New Zealand. It's a former geothermal bathhouse, built for Edwardian tourists. Not only is the building itself interesting to explore, the exhibition about the Tarawera eruption is wonderful – or, at least, it was. Unfortunately, as I write this, Rotorua Museum is closed for earthquake strengthening. They currently have no idea when it will open again. Hopefully it won't take too long, as I'd love to visit it again.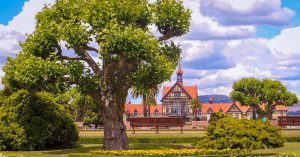 2) Omaka Aviation Heritage Museum
This is a special museum. Omaka made me fall in love with it, despite the fact that I don't find planes particularly interesting. I wouldn't even have visited it in the first place if my dad hadn't raved about it so much! The displays were made by Weta Workshop (of Lord of the Rings fame,) and many of the planes housed there actually belong to Sir Peter Jackson. The aircraft – and perhaps more importantly, the pilots that flew them – are brought to life in immersive detail.
1) Tawhiti Museum
Ever since I visited Nigel Ogle's Tawhiti Museum in Hawera, Taranaki, I haven't stopped recommending it to people. I even dragged my fiancé to it on our latest New Zealand campervan trip, and it was just as enchanting as I remembered! The history of Taranaki, and the stories of its more notable residents, are brought lovingly to life through Nigel Ogle's models. I engaged with, and consequently learnt more about, the New Zealand Wars in one exhibition than during my entire New Zealand school career. And there's a fun boat ride.
Article by Abigail Simpson