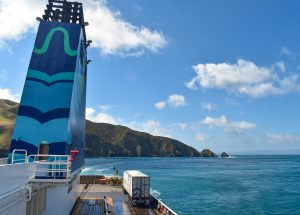 If you plan on visiting both islands on your New Zealand campervan trip, you'll need to take your campervan on a Cook Strait ferry. (Cook Strait being the body of water between the North Island and the South Island of New Zealand.) The ferries travel between Wellington, at the bottom of the North Island, and Picton, at the top of the South Island. The crossing takes between three and four hours, depending on the weather. (Last time we did the Wellington to Picton crossing, the weather was glorious, so we were able to stand out on deck and witness the sunshine sparkling off of the Queen Charlotte Sound.)
Although it's advertised as a must-do New Zealand attraction, the ferry journey is actually quite mundane. You drive your campervan into the bowels of the enormous ship, leave it there, and make your way up onto the main deck. There you'll find a café and a gift shop. If you paid extra for a premium lounge ticket, you'll get to sit somewhere a bit quieter with unlimited access to a buffet. (I'm not sure it's worth it for just three hours, to be honest, unless you have to get some work done.)
I suppose I enjoyed the novelty of being on the ferry, but unless you've got a vehicle you need to transport between the North Island and the South Island, but you're probably better off flying. (If you're lucky, you might spot some dolphins from the ferry, but we didn't.) As you're currently reading an article on a website about New Zealand campervan trips, however, I'm going to assume you are planning on taking campervan across Cook Strait. As such, I've prepared some tips. I hope you find them useful.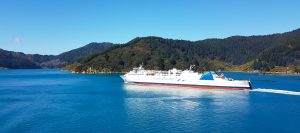 1) Before you arrive at the ferry terminal, make sure you've packed a small bag of everything you want to have with you on the ferry, as you're not allowed back to nip back to your campervan once the ferry's set sail.
2) It's often cheaper to book the Cook Strait ferry through your campervan rental company than it is to book it directly through the ferry service.
3) It's often better to get an early-morning crossing so that your day isn't completely written off time-wise. (You can get late crossings that arrive around midnight, but that's too late to check in to most campgrounds, and driving around trying to find an empty free camping spot in the middle of the night isn't desirable.)
4) You can find campgrounds, free or otherwise, relatively close to the ferry terminals in both Picton and Wellington, so you don't have to wake up too hideously early to make the crossing.
On the Picton side, the closest free camping spot can be found in Collins Memorial Reserve in Koromiko, just south of Picton on State Highway 1. There's only room for twelve campervans and, as you can imagine, it fills up fast, even in winter. If you miss out, don't worry – there are lots of other free camping spots around Blenheim. (Download the Camping NZ and CamperMate apps to find them all. Why both? Because there are some camping spots that only appear on one or the other. They're both free, so you may as well.)
On the Wellington side, the closest free camping spot is the Evans Bay Marina Carpark. Again, this fills up fast. Also, it's on the other side of the city centre to the ferry terminal, and driving through Wellington's cramped and unnecessarily complicated streets in a campervan is not fun, so give yourself time. (Or fork out to stay at the expensive, but close-to-the-terminal Capital Gateway Motorhome Park.)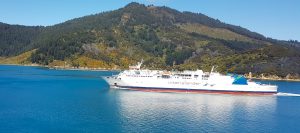 Article by Abigail Simpson, author of Poms Away: A British Immigrant's View of New Zealand