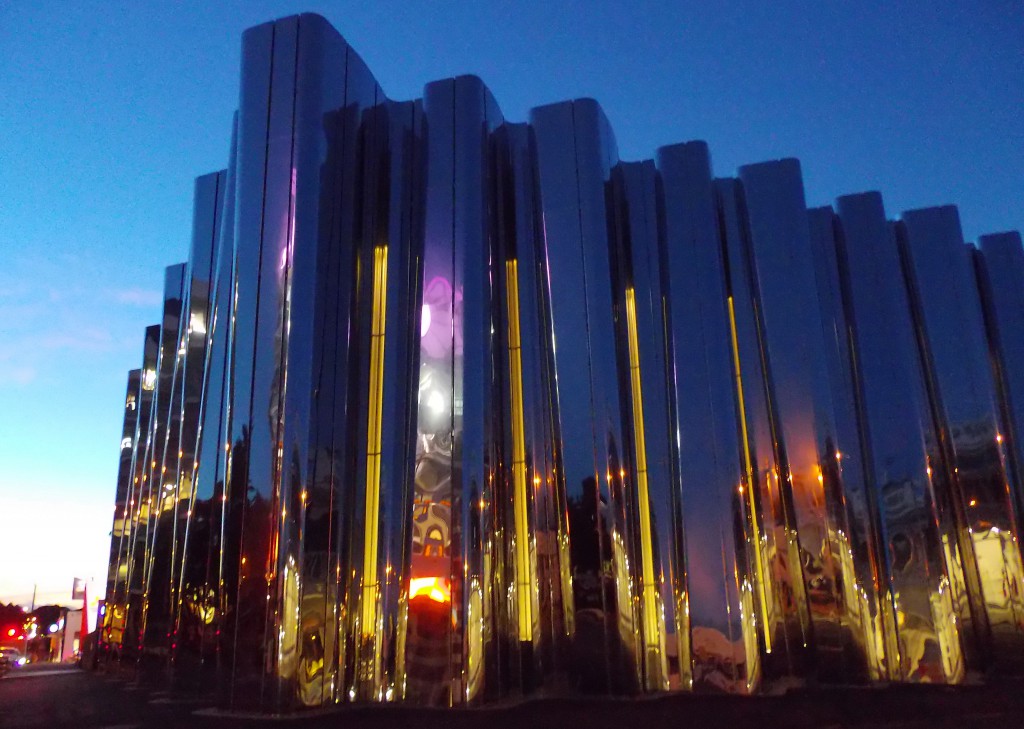 New Plymouth is an up-and-coming city on the rugged west coast of New Zealand's North Island. It was founded in 1841 by settlers from 'old' Plymouth in England. Despite its relative youth, however, New Plymouth's history is rather turbulent. The Taranaki Wars loom over it, much as the stunning Mount Taranaki looms over the landscape. We learned a lot when we visited New Plymouth last summer. Of course, we explored the Taranaki Region as a whole, but this article focuses on the city itself. Here's a list of ten places we went to in New Plymouth:
1) Pukekura Park
This is a truly impressive city park. It's huge. You can visit the fernery, go boating on the lake, have a posh cup of tea, watch the kids play, and marvel at the rather beautiful manmade waterfall. All this was even better when we went, though, because we went during the Festival of Lights. It was like walking through fairyland. Pukekura Park is a wonderful place to while away a few hours, and there's even quite a good zoo next-door.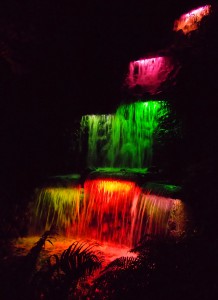 2) Tupare
Tupare lies just outside the city, on a hill overlooking a river. It's a gem, something you don't expect to find in New Zealand: an idyllic English-style country house and garden. The garden is a slice of perfectly manicured paradise, with many little paths winding down to the river, and the house is to die for, designed in the style of the Arts of Crafts movement and crammed full of antiques. The house is only open for tour groups sometimes, but it's free to enter, as is the garden.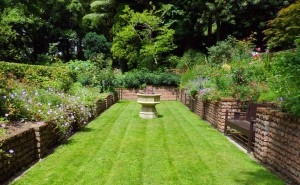 3) Richmond Cottage
Richmond Cottage is a tiny, Victorian house made of stone. It looks extremely out of place, with the tall, modern buildings of New Plymouth surrounding its petite garden. It seems almost magical, a bubble of preserved history, and inside it's utterly fascinating. It's free to enter, and there's Victorian furniture and artefacts in every room, as well as lots of information boards dealing with the history of the family that owned the house. Rather disturbingly, one board talks about a guy that liked to go out hunting Maori – saw it as his scientific duty or something. I knew that sort of thing went on in Australia with the Aborigines, but not in New Zealand! (I tried googling it when I got back, but couldn't find any mention of it. Maybe it was just this one guy. Let's hope, anyhow.)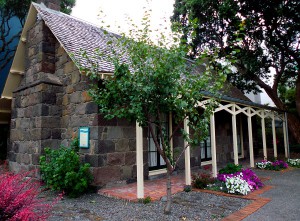 4) The Coastal Walkway
I really enjoyed strolling along New Plymouth's Coastal Walkway. The path was great, accommodating both walkers and cyclists with ease, and the view over the grey Tasman Sea was breathtaking. The walkway includes the striking Te Rewa Rewa Bridge and the Wind Wand, a 'kinetic' sculpture by the late New Zealand artist Len Lye.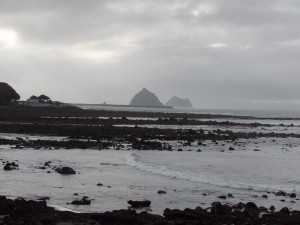 5) The Clock Tower
The New Plymouth Clock Tower is quite unusual. It's partly transparent and lights up all different colours at night. Worth walking past of an evening, anyway. Just a shame you can't climb to the top of it. I reckon New Plymouth's missed a trick there – it'd be great for getting photographs of Mount Taranaki!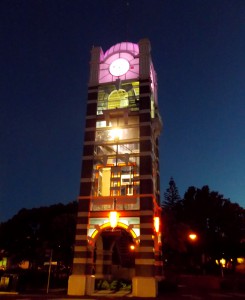 6) The Hour Glass
The Hour Glass is a swanky bar in the middle of New Plymouth, on Liardet Street. It's got a lovely atmosphere, decorated in such a way as to feel cosy and old-fashioned, yet modern at the same time. The selection of beers and wines is excellent, and they do tapas too. When we went, we ended up in a warmly lit side room with a pair of musicians playing Irish folk songs – it made for quite a magical evening.
7) Pankawalla
Pankawalla is an Indian restaurant on New Plymouth's main street, Devon Street. My parents both said it was the best Indian restaurant they'd ever been to. (And they should know – they're English!) I loved the décor, an inspired mix of modern and traditional, with interesting quotes on the walls. If you want somewhere nice to eat out in New Plymouth that's not too expensive, with a guaranteed good meal, this is the place. Even my grandpa, who has a phobia of foreign food, was converted by their mild mango chicken curry!
8) Pukeiti
Practically across the road from Tupare, Pukeiti is a huge garden that's been in development since the 1950s. As well as being New Zealand's premier rhododendron garden, the park extends into the bush at the foot of Mount Taranaki. Walks range from half an hour to a few hours, with tracks passing between giant trees and mountain streams. We did the Valley of the Giants Walk, after we'd had lunch at the café at the entrance. Admission is free.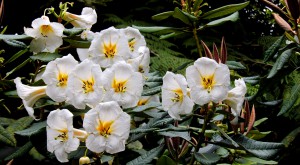 9) The Len Lye Centre
From the outside, the Len Lye Centre was the most interesting-looking art gallery I'd ever seen. I don't know if you could call it beautiful, but it's certainly striking and something you simply have to walk past if you're ever in New Plymouth. Try and walk past it at dusk, if you can – that's when it seemed particularly effective, especially with the coloured lights of the Clock Tower just across the road from it. I didn't find much to interest me actually inside the gallery, but that could just be my taste, and I suppose it changes all the time.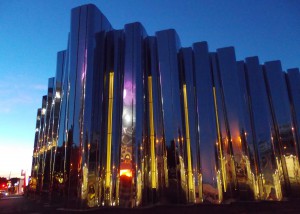 10) Puke Ariki
Housed in a very interesting new building, New Plymouth's Puke Ariki is at once a tourist information centre, museum and library. It even has a restaurant, though it's hideously expensive. (Really nice food, though it was cramped and service was slow.) The museum was okay, but if you want to visit a museum in the Taranaki Region, go to Nigel Ogle's Tawhiti Museum in Hawera. (In fact, I recommend you pay a visit to Tawhiti if even you're not the sort of person that usually visits museums. It's wonderful. You'll see.)
Article by Abigail Simpson