Fancy a relaxing few days filled with fine food and harbour views? You could do a lot worse than Akaroa. Akaroa's a small town on Banks Peninsula, near Christchurch. It's one of the oldest settlements in New Zealand and fairly unique: the settlers in question were French. The street names are French and the Tricolore flies over the shimmering bay.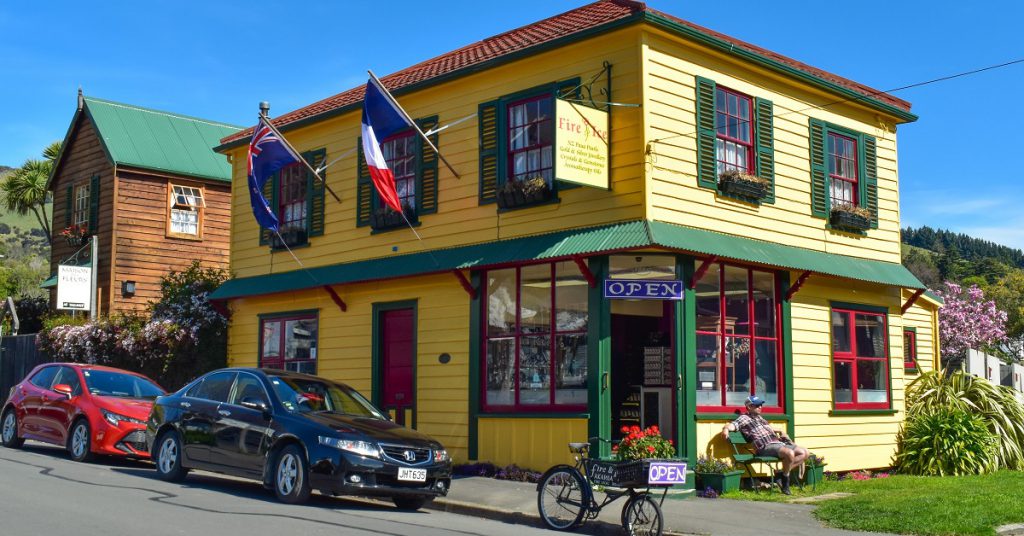 The quaint colonial architecture houses French-influenced bakeries, delicatessens and restaurants, as well as art galleries, crystal shops and a museum of local history. The cherry on Akaroa's gâteau, however, is it's the only place in the world in which you can swim with Hector's dolphins, which look like this: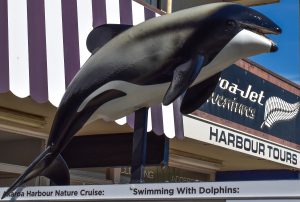 They're not just a handful of dolphins owned by some guy called Hector; they're a species. They're the smallest dolphins in the world and endemic to New Zealand. My family went on an Akaroa dolphin cruise during our first South Island campervan trip. The dolphins were so cute! Plus Akaroa Bay was beautiful and tranquil… It was the nicest New Zealand dolphin cruise I've been on, come to think of it.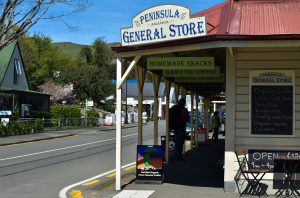 Both times I've visited Akaroa, it's been in a rental campervan. There's a free overnight spot for self-contained campervans along the Rue Brittan, by the sea, but you'll be lucky to get a spot unless you arrive early. (We were and it was off-season!) I recommend staying at the Top 10 Holiday Park, as both times I've stayed there, it's been excellent. The only downside is it's at the top of a big hill overlooking the town, which is great for the view, but walking back up to it's a slog.
So, aside from a dolphin cruise, what do I recommend doing in Akaroa? Easy. Explore the town, stroll along the harbourside, have breakfast at a bakery and dinner at one of the many fancy restaurants, visit the museum and, most of all, check out the Giant's House. It has a wacky and completely wonderful mosaic sculpture garden.
Oh, and on the way to Akaroa, you'll pass the Barrys Bay cheese shop and factory, where you can watch the cheese being made. Now, personally, I think Barrys Bay cheese is okay. I mean it's nice, but, for me, it's not amazing. Other people with different palates may find it amazing, though. Either way, you should drop in. When you're on a campervan trip, it's nice to stock the fridge with local cheeses from the various places you visit.