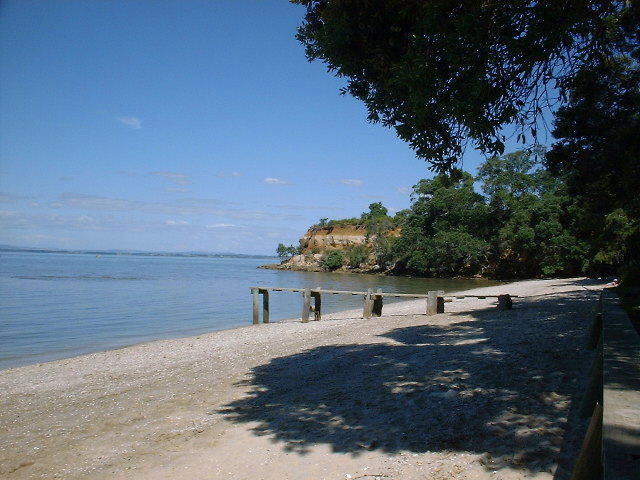 There's one place in New Zealand that I'll remember fondly forever, somewhere my family always went for picnics when we first arrived here, the place that taught a bitter, homesick ten-year-old how wonderful it is to live in New Zealand: Awhitu.
Awhitu – pronounced 'ah-fee-too' as the Maori 'f' sound is represented by a 'wh' – is a peninsula that spouts up from Waiuku, the small town my family used to live in, south of Auckland. It is home to the Awhitu Regional Park, a place of peaceful, understated beauty with a bit of interesting history thrown in.
The main picnic area has a bookable barbecue and plenty of benches, but also lots of trees you can spread a blanket under and open spaces perfect for playing – my family used to take our badminton rackets, not that we were any good with them. The area was always full of fantails, cute, friendly, little birds that flitted about beneath the branches, waiting for us to rouse insects from the grass.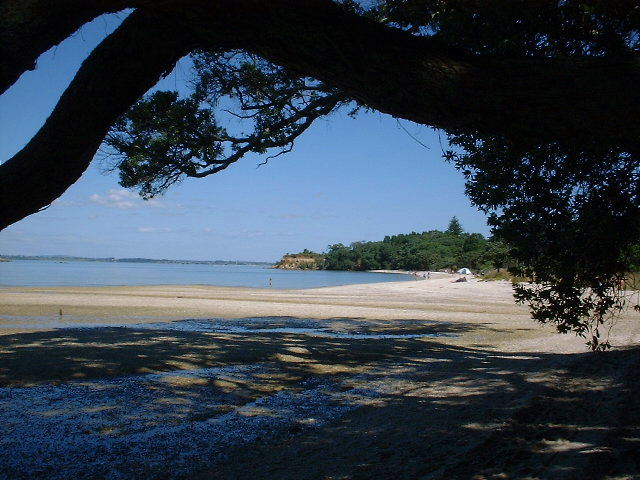 We didn't always eat our picnics in that area though. Sometimes we descended the sandstone cliff and ate our egg sandwiches on the beach, in the shade of 'our' pohutukawa tree. I don't know how many other families referred to that tree as theirs, but we were pretty annoyed when anyone beat us to the spot.
The view out over the water was rather lovely. There's a tiny island close to shore, (so close you can walk to it at low tide if you don't mind sinking knee-deep in mud, but is deceptively far if you try to swim to it,) that is little more than a yellow rock with a few low trees and a single tall tree at the crest of it. This single tall tree is actually quite striking, and turns the view of an otherwise ordinary New Zealand beach into a perfect painting.
And the Auckland Regional Council has, in fact, turned the view into a painting. Awhitu, like a number of other regional parks around Auckland, has a giant, golden picture frame featuring a jumble of New Zealand plants and animals, which is placed at a point from which there is a fantastic view through it, creating a 'natural masterpiece' – a painting of which every tourist has to get a photo and every child has to climb into. Locals hate those picture frames, but the ten-year-old me loved them.
I also loved swimming at Awhitu – the water is ideal for it. And I enjoyed walking along the beach until we got to the old jetty and the jutting piece of cliff, which was very scenic and had lots of boulders you could scramble over at the bottom. What is it about scrambling over boulders that's so satisfying?
There are some longer walks you can go on at the top of the cliffs, but not too long. One takes you past the Brook Homestead, a wooden house in a quiet glade that was built in 1878 by a family of English immigrants. Here we were, English immigrants one and quarter centuries later, and how much easier it was for us. We didn't have to build our house from scratch with our own hands in some remote location. We didn't have to live in a shack consisting of two tiny rooms until our proper house was ready. My sister and I didn't have to sleep in the roof cavity, which would have been freezing in winter and roasting in summer.
Next to the Brook Homestead is a campground where you can park a campervan for up to seven nights, though, to be honest, there probably isn't enough around there to occupy you for a full week. Even so, it's a popular place to camp. There's another campground close by, and a self contained campervan parking area in which you can stay for one night. Bookings are recommended, especially during the summer.
What's special about Awhitu is not many international tourists know about it, so when you camp there, you're usually accompanied by locals. It's a tranquil, isolated sort of place. The Waiuku townsfolk say that the people who live up the Awhitu Peninsula have webbed toes, but then people from bigger towns say the same of the people who live in Waiuku.
It's not true.
Article by Abigail Simpson, author of POMS AWAY! A British Immigrant's View of New Zealand