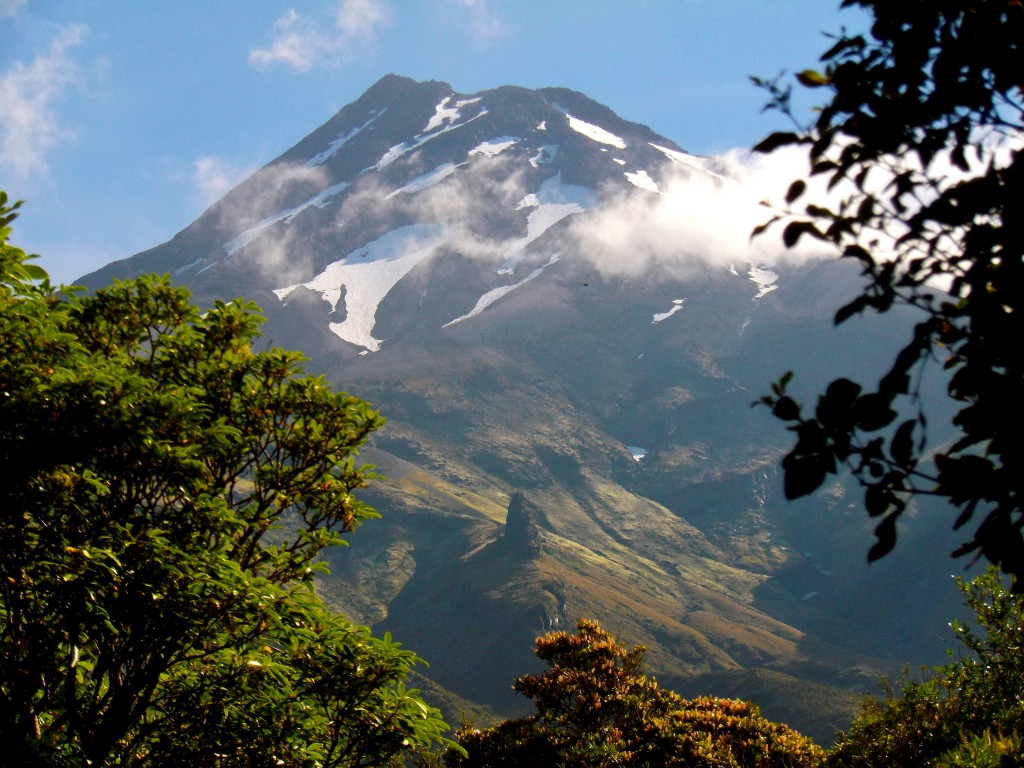 Taranaki, called Mount Egmont by Captain Cook, is a large volcano on the west coast of New Zealand's North Island. Perhaps the most striking of all New Zealand's volcanoes, it stood in for Fujiyama in the film
The Last Samurai
. When the snow-garnished peak casts off its shroud, the view is truly awe-inspiring.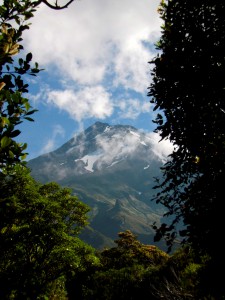 Hiking to the top is no mean feat. Although you don't need to be an experienced mountaineer, you do need to be fit and well-prepared. And don't try it in winter unless you're used to ice climbing. People do die climbing Taranaki, often because they're caught out by a sudden weather change. If you're not sure, you can go with a guide. It takes a full day to make it to the summit and back.
You can enjoy Taranaki without climbing it, though. There's a ski field, and many different walking tracks surround it. Egmont National Park forms a giant circle around the volcano. In it, you'll find waterfalls, pools and a forest so beautiful you'll think you're in a fairytale. The walking tracks vary in difficulty, ranging from a few minutes to a few days in length.
I went to Taranaki with my family last summer. We walked a two-hour loop track through the Goblin Forest and went up to the Ambury Monument. Though the sun was hot, the air was nicely cool. The Ambury Monument was a fantastic place to sit, actually. We had to wait a while for the clouds to clear, but our patience paid off. The view of the peak was first class.
If you hire a campervan in New Zealand, you can stay overnight for free in Egmont National Park. It must be a self-contained campervan rental, though. The car park at the North Egmont Visitor Centre, for example, allows campervanners to stay for up to four nights. You don't have to book, and there are toilets and a café. Imagine waking up to a view like this.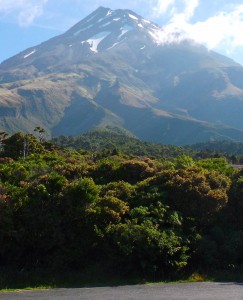 Taranaki makes for a great stop on a New Zealand campervan trip. But it's not just the volcano: the region has a few other worthwhile attractions too. I was especially impressed with the
Tawhiti Museum
,
Tupare
and
Pukekura Park
. I don't know about doing the
Forgotten World Highway
in a campervan, though…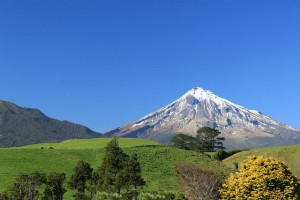 Article by Abigail Simpson