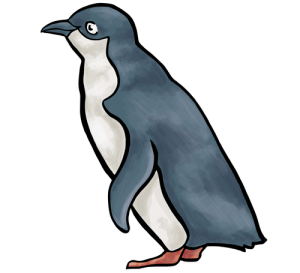 Oamaru is a Christmas stocking-of-a-town: it's filled with bite-sized delights. Whether you're into wildlife, or history, or food and drink, you'll definitely find a tasty morsel to savour. Situated on the road between Christchurch and Dunedin, Oamaru should be a stop on everyone's itinerary. Here's a list of the ten best things you can do there:
1) Spy on some penguins
Before it became associated with steampunk, Oamaru was famous for its little blue penguins. They can be seen waddling up the beach of an evening. There are places where you can watch them for free, as well as paid experiences. It's also possible to observe yellow-eyed penguins and an abundance of other birdlife. Little blue penguins, also known as fairy penguins, are, however, the cutest.
2) Visit Steampunk HQ
Steampunk HQ is an art gallery with a difference. Become immersed in a parallel world in which Victorian inventions reached the realm of science fiction. Explore a spooky workshop, an intriguing laboratory and a mind-blowing mirror room. Marvel at the airship, and the train you can climb aboard. Steampunk HQ doesn't take long to look around, but it's a welcome diversion from the real world.
3) Explore the Victorian Precinct
This corner of Oamaru is wonderful. There's a whole street of stone Victorian buildings, in which you can find such shops as an old-fashioned bakery, a vintage clothes boutique, an art gallery, a book binder's and so much more. Walking along it feels like stepping back in time. Imagine being there during the annual Victorian Heritage Celebrations with everyone wandering around in costume! They usually take place in November.
4) Browse the secondhand bookshops
Oamaru's Victorian Precinct is home to not one, but two amazing secondhand bookshops. One is called Adventure Books, and focuses on books related to exploration. Even if you're not into that particular genre, it's worth visiting merely to check out the décor! The other is called Slightly Foxed and has a more general selection. It has a delightfully Victorian feel: there's a mezzanine, and an Alice in Wonderland playroom, and the books you buy are wrapped in brown paper and tied up with string!
5) Dress up like a Victorian at Whitestone City
Also in the Victorian Precinct, Whitestone City is an interactive museum that you can explore in costume. Mooch around some Victorian shops, play some games at a local watering hole and get told off in a strict schoolroom. Best of all, take a ride on the penny-farthing carousel! The museum staff are fantastic and perfectly happy to take photos of you in your Victorian outfit. Definitely choose the guided tour over the self-guided option.
6) Wander through the Public Gardens
The Oamaru Public Gardens are impressive and utterly lovely. From the enchanting bridges of the Japanese Garden to the magical Wonderland Garden, all ages can delight in them. They're free to walk around, and are within easy walking distance from the Victorian Precinct. Better yet, they're directly adjacent to the Oamaru Top 10 Holiday Park, which has its own entrance into the gardens. We highly recommend booking a night or two there if you're on a New Zealand campervan trip.
7) Sample the local cheese
Whitestone Cheese is famous in New Zealand because it's really good cheese. Its factory is in Oamaru, and you can take a tour of it. You can also just visit the café and order a tasting platter. Their blue cheese is especially delicious, but they have such a wide variety of cheeses that it's hard to choose a favourite. They've won multiple awards, of course.
8) Savour a dram of the local whisky
We're back in Oamaru's Victorian Precinct to visit the New Zealand Whisky Collection Cellar Door. Drink in the old-fashioned atmosphere and hear each whisky lovingly described. Choose a single glass, or a whole row of different blends and malts to taste. The Cellar Door is at the end of the Victorian street, overlooking the harbour. It's the perfect place in which to slow down and reflect upon your trip thus far.
9) Taste the local craft beer
As well as whisky and cheese, Oamaru has its own microbrewery. Scotts Brewing Co. is a brewery and bar that does excellent pizza. You can find it down at the harbour, just beyond the Victorian Precinct. Enjoy a tasting board next to the vats, or outside overlooking the sea. The Nineteen 05 Golden Ale comes highly recommended.
10) Check out Janet Frame's house
Janet Frame is one of New Zealand's most beloved writers. 56 Eden Street, Oamaru, was her childhood home. Now a museum, you can look around it for just $5. It's only open from 2 – 4pm, and only between November and April, so plan your visit carefully, if you're a fan. It's a fifteen-minute walk from the Oamaru Public Gardens.