Lake Taupō is one of New Zealand's most impressive geographical features. The largest lake in the country, it was created by a supervolcano, and the area still bubbles with volcanic activity. I've visited it many times, as a child with my family and as an adult with my fiancé. As far as I'm concerned, there are five things you need to do in Taupō:
1) See the Māori Rock Carvings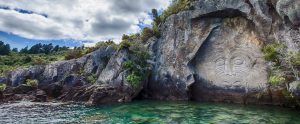 These can be found on a cliff face at the lake's edge, best viewed from the water. They look ancient (in an awesome way,) but were carved in the 1970s. You can go right up to them on a cruise or kayak tour. Look out for the taniwha!
Read more about the Māori Rock Carvings
2) Walk around the Craters of the Moon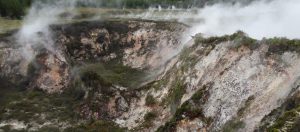 These are a collection of mud pools and steam vents that do, indeed, resemble their namesake. I was enchanted by them as a kid. They take about an hour to walk around, and the path is a breeze. It costs $8 to get in.
Read more about the Craters of the Moon
3) Stand over the Huka Falls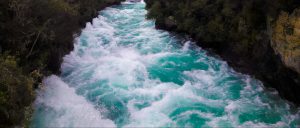 The Huka Falls are breathtakingly powerful, due to being a large volume of water rushing through a relatively narrow canyon. There's a bridge directly over the top of them, which everyone who passes through Taupō has to stand on. This is easily achieved, as it's directly adjacent to the carpark. It's also free.
4) Relax in a geothermally heated spa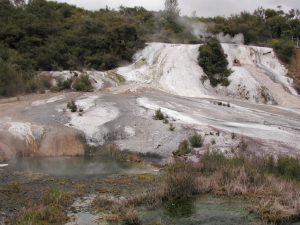 Taupō has an abundance of naturally heated pools to choose from. These range from expensive, luxurious experiences to swimming baths that are fun for the whole family. There's even a spot where you can play under a warm waterfall for free. This can be found in Spa Thermal Park.
5) Visit Orakei Korako
There are a few geothermal valleys between Rotorua and Taupō – Orakei Korako is possibly the best. You can only get to it by boat, but there's one from the Visitor Centre. The 'Hidden Valley' contains stunning examples of geysers, hot pools, mud pools, silica terraces and even a volcanic cave. If you want, you can catch a tour that'll take you up to it in a jet boat.
Speaking of jet boats, there are lots of thrill-seeking tourist activities to be had around Taupō. Perhaps the most unique jet boating experience is the one that takes you directly to the foot of the Huka Falls! You can also go white water rafting, canyoning up a warm river, bungy jumping or even skydiving. No doubt I'll be visiting Taupō again in the future.
Written by Abigail Simpson