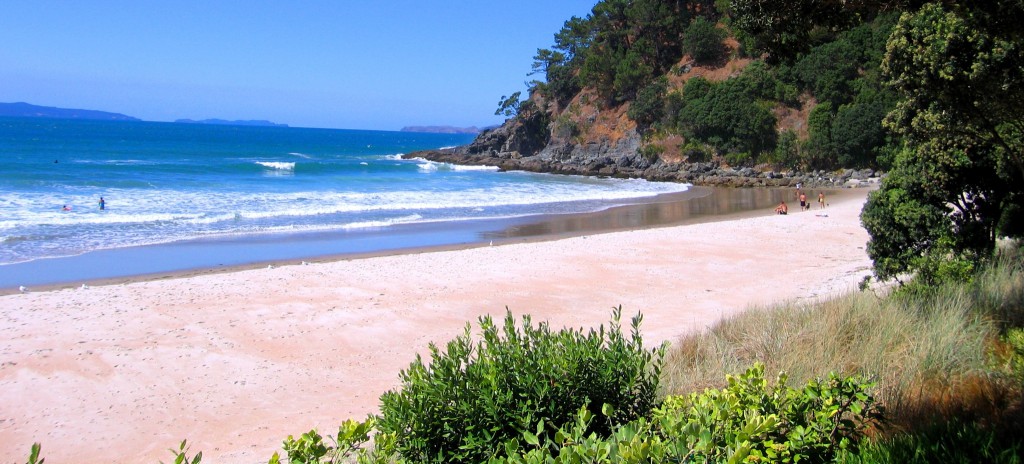 Nearly three-quarters of New Zealanders live within five kilometres of a beach. And they're pretty gorgeous beaches.
Some New Zealand beaches are exactly what I thought they'd be: sparkling, white sand and crystal-blue waters, but I was in for a surprise too. The first beach my family went to in New Zealand, Kariotahi, had rugged cliffs, wild waves and black sand.
Seriously – BLACK sand.
It's volcanic, also called ironsand, and is mined on the West Coast of New Zealand to make steel, yet it's the softest thing I've ever felt. When my tender British feet stepped onto it for the first time, I actually gasped. I felt like I was walking on velvet – and silky, high-quality velvet at that.
There are only two problems with black sand: it gets way hotter than normal sand and can burn your feet, and it's very difficult to rid yourself of. But totally worth it!
Two of the first things my parents bought me upon arriving in New Zealand were a wetsuit and a bodyboard. Bodyboarding – or "Boogieboarding" – is basically surfing for wusses. I loved riding the waves at Kariotahi, but it sometimes got too dangerous and we had to stop. Lots of New Zealand beaches, including Kariotahi, have Surf Life Saving Clubs operating at them. They put a pair of flags out to mark where it's safe to surf, and watch for people in trouble. I've never had to be saved, but I have experienced being dragged a scarily large distance by a rip and battling to get back between the flags.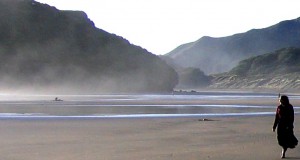 West Coast beaches may be more dangerous to surf/bodyboard at, but the soft sand means you don't scrape your knees when you get beached!
It's impossible to holiday in New Zealand without hitting a beach. Most of them have places to camp and park a campervan nearby, and many of these have barbecue facilities. A barbecue on the beach is a very New Zealand thing to do – it's sometimes said that's what the Kiwi Christmas dinner is – but the most traditional beach food is, as it is in Britain, fish and chips. Or "fush and chups" in the New Zealand accent.
And ice-cream, of course.
Article by Abigail Simpson, author of POMS AWAY! A British Immigrant's View of New Zealand